Trading Time Horizon
The StockConsultant tool targets swing and momentum investors with short term trading horizons from as short
as 3 days (for breakout/downs) up to 6 weeks long.
The stock indicators are more consistent and provide the most accuracy on lower volatility stocks with typical short term rallies less than 35% and typical volume greater than 300k shares (selectable in SearchTool).

My Links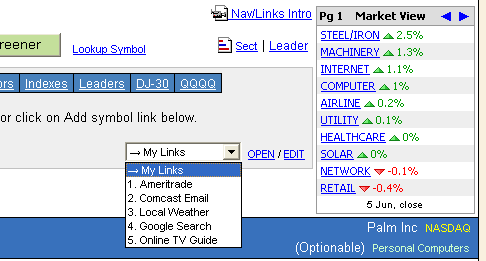 A way to bookmark frequently accessed web pages like brokerage, email, news, weather and other web sites for easy access from the Consultant, Portfolio and QuickChart tools.
The "My Links" section is located just to the left of the Market View listing.
Links 1 & 2 open separate permanent windows and should be use for brokerage or email type links.
Links 3,4, and 5 share a common window and are good for news, search, and weather type links.
To change a link first select the link with the pulldown and then click on "EDIT" to change the link url and description.

Stock Lists

There are 8 user lists which can each hold up to 70 stocks each for a total of 560 stocks. For members these lists are saved on the server and can be accessed from any computer, laptop, or tablet connected to the internet.
To save stocks to a list first select a list from the pulldown. Once a list is selected you can add or remove stocks by clicking on the "Edit" link.
You can also add or remove a single stock from the current list using the "Add XXX", "Rem XXX" link where XXX is the stock symbol (see figure below). To add or move a stock to a different stock list select Add/Move and then the stock list pulldown.


Stock lists:

"Stocks To Watch" is a list of up to 70 long and 70 short stocks to watch selected by founder Dan Chapman.
"Sectors", "Indexes", "Leaders", "DJ30" and "QQQQ" links are specialized stock lists.
The "Sectors" link contains 41 custom stock sector lists from "Agriculture" to "Utilities".
The "Indexes" link contains a list of the popular stock indexes such as NASDAQ, DJ-30, DJ-15, and others.
The "Leaders" link contains a list of the most active 30 stocks from the NASDAQ and NYSE markets (approx. 15 from each)
The "DJ30" link contains a list of the Dow Jones 30 stocks
The "QQQQ" link contains a list of the top 30 stocks in size from the QQQQ index.

Using keyboard keys to navigate
Special keyboard keys can be used to quickly navigate the stock lists, 8 month stock chart, and trade details.
Big time saver! Press the [ and ] keyboard keys for the previous and next stock in your list.
Press the \ key to quickly scroll down to the 8 month chart and back.
Press ' or " keyboard key to scroll down to the Upside trade section and back up.
These keyboard keys are located next to each other allowing quick and easy navigation.

Status line "Loading page..."
The status line (bottom of browser window) may display "Loading page..." and "DONE LOADING PAGE" progress reports.
Loading the Consultant page for the first time may take more time. This extra time is used for loading the StockConsultant program into your browser. After the first time the Consultant page will speed up considerably.
Periodic software updates may also cause the Consultant page to take extra time to load.
Back to help topics