Stock SearchTool Screener

Back to help topics
Disclaimer:
This is NOT investment advice, just general help and opinions. Please check with a registered investment advisor before making any investment decisions. This document may contain errors. Chapman Advisory Group LLC employees are not investment advisors. Please review:
http://www.stockconsultant.com/disclaimerpage.html

Topics
Starting a stock screen
Using Custom:
Saving screens
Start and end of a screen
Create an effective stock screen
Stock breakout screen with high money flow
Long stock screen with high money flow and high trade quality

Starting a stock screen
Figure below shows a basic long stock search by setting search parameters: Price, Typ Volume, Target 1 Profit, Profit/Loss, Target 1 Potential and Sort by: Upside Target 1 Profit.
High trade quality is screened by setting Target 1 Profit, Profit/Loss, and Target 1 Potential as shown below.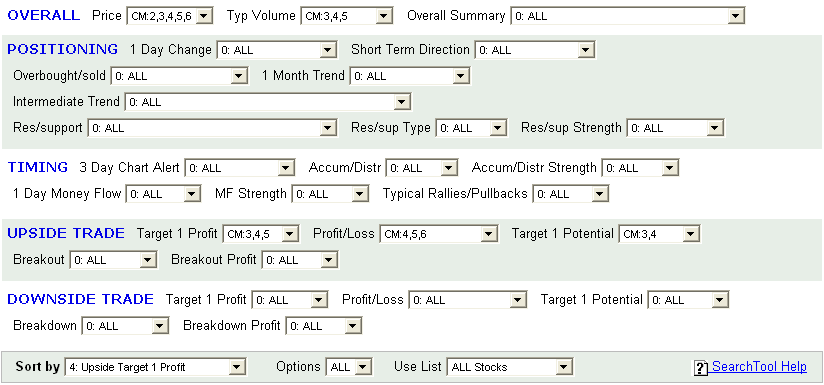 SearchTool provides the investor with a way to screen stocks for double bottoms, tops, oversold and many more chart patterns for potentially profitable stock trades.
To perform a successful screen requires multiple search steps.

To limit your search to quality stocks first select a price and volume range using the "Price" and "Typ Volume" pulldown menus.
To select more than one range select "Custom:" from the pulldown menu (see "Using Custom:" below for details).
If you now click on the "Search!" button you should see a list of stocks for the price and volume range you selected above.
The number of stocks found should be less than the 6300+ stocks found if you clicked on "Search!" with all other fields set to the default "ALL".
Next select a few of the "Overall" and "Positioning" stock indicators to screen for general conditions.
After each indicator selection perform a search and then view a few stocks to verify the general qualities your looking for (verify partterns and setups using the stock charts).
Continue to add a few more stock indicators at a time (Timing, Upside Trade, etc...) and repeat the search until your satisfied with the type of stocks found.

Using Custom: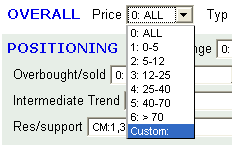 Many indicator pulldowns have an option called "Custom:". This option is used for selecting more than one indicator range. For example: To find stocks with prices from 5-25 dollars, you would select the price pulldown "Custom:" and select both the 2. 5-12 and 3. 12-25 ranges (A popup window will allow you to select each range).
Once a custom range is set you will see a "CM:" with numbers corresponding to the ranges selected. In the example above "CM: 2,3" would be shown.

Saving stock screens

Once a good stock screen is created it is important to save for later use.
To save a screen select one of the 25 open slots under the pulldown "Set Search as User Preset" (located near the top of the SearchTool page) and enter a search name (up to 30 chars).
To recall a saved stock screen select the name of your search from the pulldown "Recall User Preset".

Start and end of a screen
When the "Search!" button is pressed the browser status line(bottom left of the browser window) will display "SEARCHING...PLEASE WAIT!". The screen is complete when the status bar displays "DONE LOADING PAGE..." ÿul? Create an effective stock screen


The first step in creating an effective stock screen is making a base screen which narrows your search to a particular stock type.
We have provided a base search string below that screens for stocks above 5 dollars, with good typical volume, target profit, profit/loss ratio, and target potential with the results sorted by Upside Target 1 profit.


#,23456,,345,00!0!!0!00000000000000, 345,,34,,456, 00000004#

Use this string in SearchTool by first highlighting the complete string (including the #'s) using the mouse and then right mouse button select Copy (or by pressing keys CTRL and C). Then in SearchTool under SearchString click on the link named "Set" and in the pop up window use the right mouse button to select Paste (or by pressing keys CTRL and V).
Press "Search!" and this will return anywhere from 300 (if the stock market has rallied and many stocks have poor short term profit or profit/loss ratio) to 1800 results if the market has pulled back. The screen results are sorted by highest target 1 profit.
Next step is to narrow your search to particular stock types. Select screen parameters one at a time.

For stocks that Outperform select a rating range of 4,6,8 on the "Overall Summary" pulldown.
For stocks at support areas select 1 on the "Res/support" pulldown.
For stocks in an uptrend set the appropriate month trend and/or intermediate trend, etc...

Repeat these steps by adjusting one screen parameter at a time and looking at the resulting stock charts and indicators.
If you don't receive any stock results then it could be that your have set too narrow a search or have set conflicting parameters or due to current market conditions.
For a stock breakout screen one could start with setting the base search string listed below and then adjust.

#,23456,,345,00!0!!0!0000000000000000, 3456,2,345,000008#

Stock breakout screen with high money flow


A screen for high quality breakout stocks (watch, possible and confirmed) with strong/extreme money flow and high typical volume (larger cap stocks). The results are sorted by breakout profit and include all stock price ranges.
#0,45,00!0!!0!000000000000,45,000, 3456,,234,,345, 000008#


Use this string in SearchTool by first highlighting the complete string (including the #'s) using the mouse and then right mouse button select Copy (or by pressing keys CTRL and C). Then in SearchTool under SearchString click on the link named "Set" and in the pop up window use the right mouse button to select Paste (or by pressing keys CTRL and V).

Common stocks and their corresponding sectors that show up in the results may give insight into the strongest market sectors.

Long stock screen with high money flow and high trade quality


A screen for high quality long stocks with strong/extreme money flow, high trade quality and high typical volume (larger cap stocks). The results are sorted by Upside Target 1 profit and include all stock price ranges.
#0,45,00!0!!0!000020000000,45,0, 345,,34,,456, 00000004#


Use this string in SearchTool by first highlighting the complete string (including the #'s) using the mouse and then right mouse button select Copy (or by pressing keys CTRL and C). Then in SearchTool under SearchString click on the link named "Set" and in the pop up window use the right mouse button to select Paste (or by pressing keys CTRL and V).

The results of this screen may give a hint as to which stocks and corresponding sectors are gaining strength.

Back to help topics