General Basics & Navigation

Back to help topics
Disclaimer:
This is NOT investment advice, just general help and opinions. Please check with a registered investment advisor before making any investment decisions. This document may contain errors. Chapman Advisory Group LLC employees are not investment advisors. Please review:
https://www.stockconsultant.com/disclaimerpage.html
Topics
Prerequisites
Indicator Levels & Colors
Trading Time Horizon
Stock Lists
Stocks To Watch and StockWatch
Using keyboard keys to navigate
Chart Options
Portfolio and SearchTool List Options
Portfolio and SearchTool Output Styles
Prerequisites
Understanding candlestick charts


Stock support and resistance
Stock volume
Basic chart patterns
Stock trade basics
Indicator Levels & Colors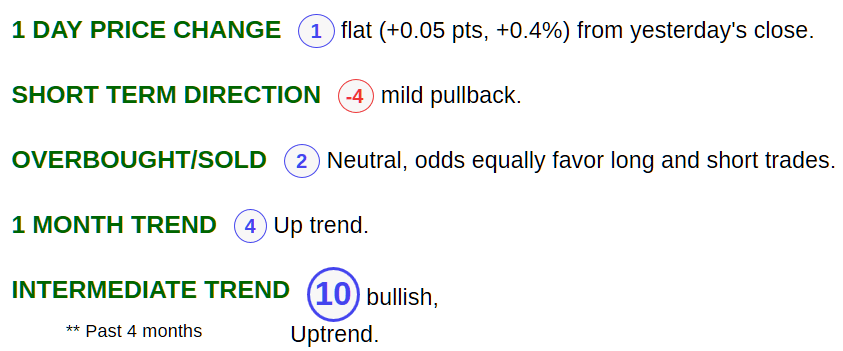 Stock indicator levels vary from 0 (neutral) to 10 (very strong, extreme) both positive and negative.
Indicator colors are typically blue for bullish, up, and stock support, red for bearish, down and resistance, and grey for neutral, flat.
Levels of 7-8 (strong, very strong) occur approximately a quarter (25%) of the time.
Levels of 9-10 occur only 1-2 times every 6 months (5% of the time) and represent extreme levels that can seldom be held for any amount of time.

Stock chart of an extreme short term direction rally
Trading Time Horizon
Typical timeframe for a momentum trade to reach target is from 1 to 4 weeks (5-20 trading days)
The typical timeframe for a breakout trade to reach target is from 1 day to 1 week (5 trading days); this is a short term event.
Price Target 1 can be conservative at times especially if the stock has had only 1-2 big rallies or pullbacks over the past year. The more rallies and pullbacks, the more accurate price targets 1 and 2.
The stock indicators are more consistent and provide the most accuracy on lower volatility stocks with typical short term rallies less than 35% and typical volume greater than 300k shares (selectable in SearchTool).
Stock Lists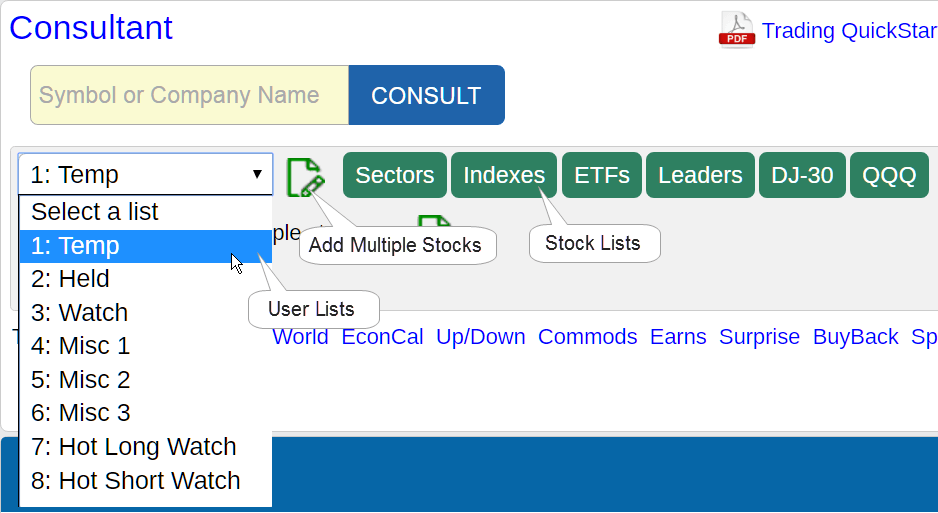 There are 8 user lists which can each hold up to 70 stocks each for a total of 560 stocks. For members these lists are saved on the server and can be accessed from any computer, laptop, tablet or smartphone.
To add stocks to a list first select a list from the pulldown. Once a list is selected you can add or remove stocks by clicking on the edit icon.

You can add or remove a single stock from the current list using the "Add XXX", "Rem XXX" link where XXX is the stock symbol. To add or move a stock to a different stock list select Add/Move and then the list.
Stocks To Watch and StockWatch

Stocks To Watch is a daily list of screened stocks for breakout, momentum and bottom setups.
StockWatch is a subset of the daily Stocks To Watch that show the most promise to make a move higher.
After the market opens, StockWatch updates may also include newly screened stocks.
Using keyboard keys to navigate
Special keyboard keys can be used to quickly navigate the stock lists, 8 month stock chart(s), and trade details.
Press the [ and ] keyboard keys for the previous and next stock in your list.
Press the \ key to quickly scroll down to the 8 month chart and back. In Portfolio and Searchtool this key will scroll through each chart in the list.
Press ; or : keyboard key to scroll down to the Upside trade section and back up.
Chart Options

Consultant Tool options, top right of results page

Show BarCharts/CandleCharts link.
Fix top chart: select time frame from 1-10 days(intraday) or 1 month to 5 years.
Chart Options link:

Chart type Bar or Candlestick
Linear or log charts
Display resistance/support lines
Add Moving Avg(average) 1 and Moving Avg 2 lines
Program time frames for the top and detailed chart overlay charts.


Chart Options links are also listed under Detailed Chart, Portfolio and Searchtool.
Portfolio and SearchTool List Options


Portfolio and SearchTool List options:

Change the number of stocks displayed per results page from 1 to 20 charts/data (up to 35 for the Firefox browser).
Choose between both charts and data, or data only output.
Turn on/off Rally Bands/MA (moving average) indicators to increase speed on Internet Explorer browsers.
Portfolio and SearchTool Output Styles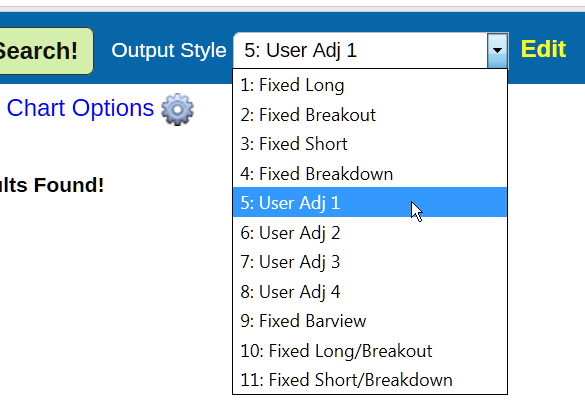 The "Output Style" pull down sets what indicators will be shown in the results for each stock listed. For example, the "Fixed Breakout" output style is listed below.

For preset screens, the output styles will default to one of the fixed styles (Long, Breakout, Short, Breakdown).
There are four user adjustable output styles(5-9). The names and indicators can be changed and will be saved and used with the current portfolio or screen.

Back to help topics