Overall Summary

Back to help topics
Disclaimer:
This is NOT investment advice, just general help and opinions. Please check with a registered investment advisor before making any investment decisions. This document may contain errors. Chapman Advisory Group LLC employees are not investment advisors. Please review:
https://www.stockconsultant.com/disclaimerpage.html

Topics
Overall Summary
Bullish and Bearish Probabilities
Bullish and Bearish Confirmations
Rallies/Pullbacks

Overall Summary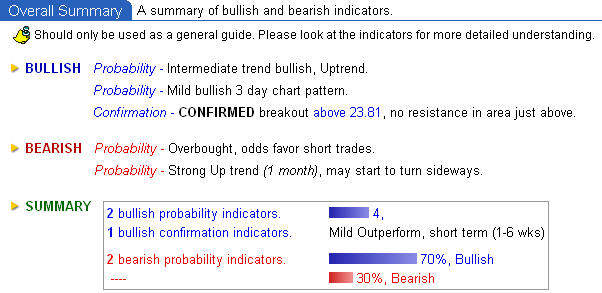 This section should be used as a general guide and not as a substitute for detailed stock indicator information.
The Overall Summary section provides a summary of the bullish and bearish stock indicators along with a % bullish and % bearish summary rating.
The Overall Summary starts out with a 50/50% bullish/bearish rating (no bullish or bearish indicators). The bullish rating will increase above 50% as the bullish indicators grow (number and quality) in respect to the bearish indicators.

Rating
Information
Hold
Stocks that are currently in a rally or pullback mode which have approx. 50% of the indicators bullish and 50% bearish.
Mild to
Very Strong Outperform
Mild outperform has indicators that are slightly bullish (ie. 60% bullish, 40% bearish) and are starting to favor long positions. Very strong outperform (ie. 90% bullish, 10% bearish) has a majority of bullish indicators with odds favoring long positions (but still need to verify good upside trade quality).
Mild to
Very Strong Under perform
Mild under perform has indicators that are slightly bearish (ie. 40% bullish, 60% bearish) and starting to favor short positions. Very strong under perform (ie. 10% bullish, 90% bearish) has a majority of bearish indicators with odds favoring short positions.

Trade Quality can behave independent of the Overall Summary at times. The Trade Quality(reviewed elsewhere) depends on the stock trade's profit/loss ratio, target profit and potential.
For longs the combination of both good % bullish numbers AND good upside trade quality completes the full picture of a stocks potential.
Breakout stocks are an exception to the normal indicators which can indicate bearishness.

Bullish and Bearish Probabilities
Probabilistic Indicators are related to a stocks positioning and give the investor the odds of a stock favoring a more:


1. bullish (ie. stock with a bottom, strong uptrend, after a strong pullback, etc...),
2. bearish (ie top, strong downtrend, after an extreme rally),
3. or neutral stance (ie. flat, possible breakout or breakdown).

| | |
| --- | --- |
| Indicator | Information Provided |
| Intermediate Trend | Intermediate term (4 month) stock bottoms, tops, and trend reversals. |
| Overbought/sold | Major 2-6 week rallies or pullbacks. |
| 1 Month Trend | Slope of the recent 1 month up or down stock trend. |
| Short Term Direction | Current 3 day to 2 week rally or pullback compared to past rallies or pullbacks. |
| 1 Day Price Change | Current 1 day price change compared to past daily price changes. |

The indicators listed above will be described in greater detail in later sections.

Bullish and Bearish Confirmations
Bullish and Bearish confirmation indicators are used to time a stock entry or exit.
Confirmation indicators are very short term in duration (1-3 days).

| | |
| --- | --- |
| Indicator | Information Provided |
| Chart Alert | 3 day stock chart analysis that may confirm a reversal, trend change, start of a rally, or end of a pullback. |
| Money flow | 1 day money flow can confirm a top or bottom reversal area, the start of a rally or breakout(or breakdown). |
| Resistance/support | Confirm tops (resistance) or bottoms (support) |
| Breakout/down | Confirm breakouts and breakdowns in the stock price. |

The indicators listed above will be described in greater detail in later sections.

Rallies/Pullbacks

Provides values for typical and extreme rallies and pullbacks in points and percent(%).
The values listed (in stock points and percent) are valid for rallies or pullbacks that are just starting to develop. A starting stock rally is defined as one starting from a support (or a pullback from resistance) area and is near the stock chart's Rallyband midpoint (not overbought or oversold).
Good indicator for directly comparing two or more stock's potential rally or pullback and possible profit.

Back to help topics