Position Stock Indicators

Back to help topics
Disclaimer:
This is NOT investment advice, just general help and opinions. Please check with a registered investment advisor before making any investment decisions. This document may contain errors. Chapman Advisory Group LLC employees are not investment advisors. Please review:
https://www.stockconsultant.com/disclaimerpage.html

Topics
Function of positioning indicators
1 Day Price Change
Short Term Direction
Overbought/sold
1 Month Trend
Intermediate Trend

Function of positioning stock indicators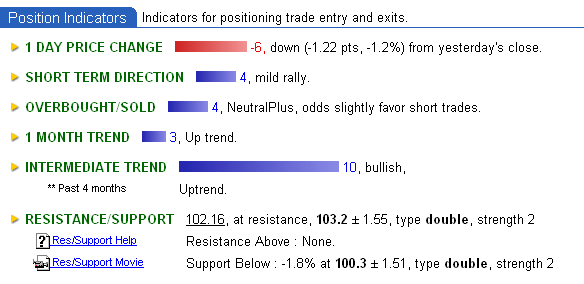 Provide information on a stocks recent rallies and pullbacks.
Information on whether a top or bottom is going to form.
Provide odds of a stock remaining at overbought or oversold levels.

1 Day Price Change
A very short term stock indicator which describes how much a stock has moved up or down from yesterdays close.
The current stock price move is compared to past price movements and varies from 0-2 for flat, up to 9-10 for an excessive 1 day up or down price change.
An excessive single day price move or gap up or down (level 9-10) is rare and may not continue for another day. A strong stock will pause or keep most of its gains on the next day.
Use this indicator to help prevent chasing a stock upward (for longs) or downward (for shorts) on the day you may want to add a position.
A good up reading (4+) when the overall market is down may be a sign of strength. This could provide a screening indicator.

Stock chart of an excessive 1 day price change

Short Term Direction
A short term indicator which captures stock rallies and pullbacks from 3 days to 3 weeks in duration. (Note: The Overbought/sold indicator is used capture longer 1-3 month rallies and pullbacks.)
The current rally or pullback is compared to past rallies or pullbacks and varies from 0-2 for flat, up to 9-10 for extreme readings.
An excessive rally or pullback (level 9-10) is rare and may not continue over the short term and may be used as a trigger to tighten stop limits, take long profits or add short positions.
When used in the stock portfolio sector listing, one can judge a whether the whole sector has completed a strong rally or pullback.
Stocks with extreme pullbacks that are also very oversold typically take longer to turn around (than a standard pullback), but on the other hand extreme rallies can turn very quickly on some bearish confirmation (resistance forming and bearish 3 day chart, etc..).
Large opening gaps up (or down) may not get filled (price may not return through the gap) for some time.
The market does not always act on bell curve type statistics, sometimes a strong pullback (7-8 range) continues to the extreme case, you may want to factor in a "wait till confirmation" (i.e. bullish 3 day stock chart, at support, 1 day money flow action etc... for pullbacks.) before going long.

Stock chart of an extreme short term direction rally

Overbought/sold
A medium term indicator which captures 1-3 month long stock uptrend or downtrend rallies or pullbacks and signals whether it is overbought (on a rally/uptrend) or oversold (on a pullback/downtrend).
Month long rallies or pullbacks can cause extreme overbought or oversold readings in the 9-10 range.
Month long rallies may be overbought but may still go higher via a stock breakout. Keep an eye on the Breakout indicator for a possible continuation from an overbought position (sometimes to new highs). (An oversold stock could go lower via a Breakdown)
Long pullbacks (1-3 months in duration) that cause an oversold reading may take longer to turn around and rally. Sometimes expecting a short term rally (1-3 weeks in duration) from this oversold area may take twice as long (up to 2-3 months).

1 Month Trend
A short term indicator that examines how fast the stock price has risen or fallen over the past month.
Values from 0-2 represent a flat month stock trend, up to 9-10 for an excessive price trend.
Excessive price trends (up or down) registering in the 9-10 range rarely continue for another month.
A flat 1 Month Trend may be used to signal an intermediate term stock top or bottom (multi month).
A breakout (from a top) may confirm a continuation of the uptrend. A stock breakdown (from a bottom) may confirm a continuation of the downtrend.

Intermediate Trend
A longer term indicator which looks at the latest 4 month stock trend.
Generalizes:

Extreme rallies and pullbacks
Possible tops or bottoms
The start or continuation of an intermediate rally or pullback

Back to help topics